BeetleCam is an strong remote-control buggy for your camera. It can be used to safely position a mirrorless camera in places where no human could go. Photograph predators from the perspective of their prey or elephants as they pass inches from your lens!
Features of the new BeetleCam:

Powerful four-wheel drive for tackling challenging terrain.
Strong metal shell to protect your camera.
Remote-control range of more than 500m.
High capacity rechargeable battery easily lasts a day of shooting.
Good manoeuvrability with the ability to turn on the spot.
Control the camera tilt angle and horizontal level remotely.
Wireless live view from the main camera HDMI output to a portable monitor.
Mount a GoPro HERO8+ beside the main camera for simultaneous video capture.
Please contact us for availability and pricing details.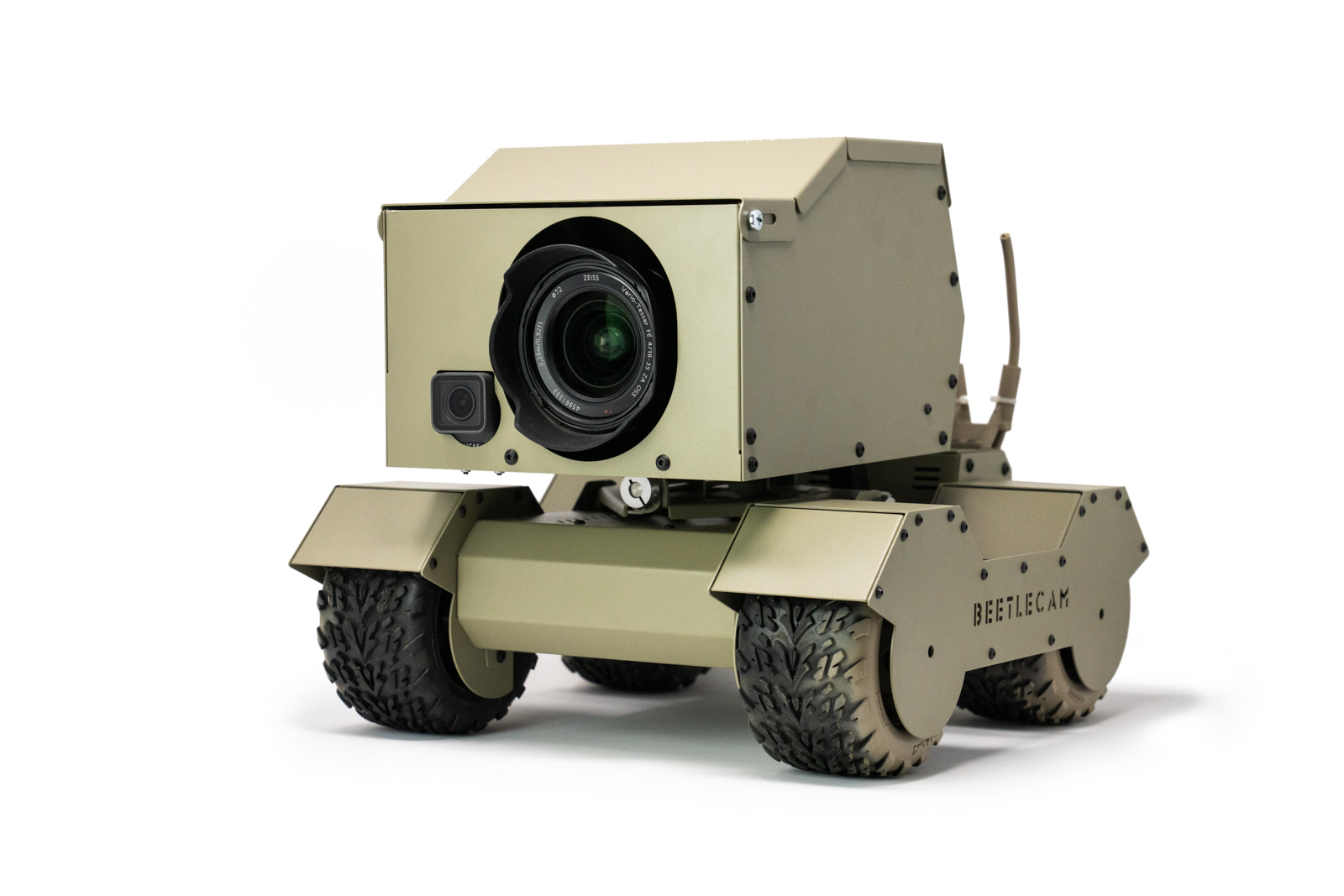 Please note: there is a 3 to 6 month lead time on new BeetleCams so please get in touch well in advance.
Advanced Tilt & Levelling Control
FAQs
Which cameras are supported?
Most regular-sized DSLRs and mirrorless cameras are supported. Large cameras such as a Canon 1DX or Nikon D4 do not fit inside the camera housing. Cameras such as the Canon 5D mk IV or Sony A7 III fit perfectly. There is no minimum size limit so smaller DSLRs or mirrorless cameras may also be used. BeetleCams are supplied with a shutter release cable compatible with Canon, Nikon or Sony cameras (other cables may be available on request).
Can I see what the camera sees?
We provide a video transmitter and receiver system that allow you to see the HDMI output from a mirrorless camera on a portable monitor. This allows you to see what the BeetleCam sees at a range of up to 500m.
Can I control the camera remotely?
All BeetleCams come with the ability to fire the camera using the same controller that is used to control the buggy. In a basic set-up you therefore need to set your camera up before deploying the BeetleCam. If you want to control your camera settings remotely then there may be a custom configuration that fulfils your needs. Please contact us to discuss your requirements further.
How much does the BeetleCam weigh?
The BeetleCam (including batteries but excluding the main camera) weighs around 9kg. The boxed weight including controller, charger and manuals is around 11kg.
What are the dimensions?
BeetleCam: Length 34cm, Width 33cm, Height 30cm.
What is the delivery timeframe?
Please allow two months.